KRISHNA
KOHLI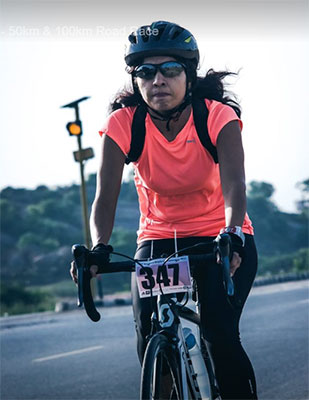 Krishna Kohli, Bengaluru, 46 years
Blessed with 2 boys (16 and 12 years), a very supportive husband and mom-in-law.
Started running to reduce loads of weight gained during pregnancy when I was 35 years. Completing the first timed TCS 10k in 2011 felt like a great achievement and confidence booster in many ways. Graduated to half marathon and full marathon distances soon after and there has been no looking back. Have completed 19 marathons and reduced close to 27kgs since then.
My triathlon journey started in 2015 with Tri-Thonnur where I registered for Olympic distance. After reaching a certain level in running, was looking to diversify into other forms of fitness which got me into learning to swim. My coach Deepak Raj encouraged me to buy a road bike which would got me hooked to triathlons. It is well said "diversifying your portfolio gives better returns on your investments" and I literally became much fitter after getting into triathlons using your different muscle groups more efficiently. Have completed 2 Olympic Triathlon, 3 Half-Iron and 1 Full IM distances so far.
My best timings have been
Marathon – 3:58
Half Iron – 6:57
Full IM – 14:52
After 21 years in the corporate world, wanted to pursue my passion into running and triathlons, so decided to take a break last year and get into coaching along with my training. Joined Yoska Technology Solutions in June 2019 as a coach. Completed my Ironman Certification and have been enjoying this phase of helping others achieve their fitness goals.
Personally, I have evolved over the year's and learnt many life lessons during my tri-training which many can relate to managing corporate careers as well. Going beyond self-limiting beliefs, being disciplined, pushing out of the comfort zone and getting mentally stronger, one of the biggest lessons has been to play on your strengths. We often over-emphasize, give too much time and focus to our weaknesses, in the process forget to use our strengths to our advantage and miss out achieving our true potential. While training for my Full Ironman, kept thinking/talking a lot about my weakest Bike leg and kept worrying about it without realizing endurance capability built over the years being into fitness regime. This really helped achieve one of my biggest goal for 2019 of becoming an Ironman. Journey seems to have just begun and want to keep myself challenged to achieve more.
Looking forward to many more women taking up the sport and help build the triathlon community in whatever I can.
Thanks